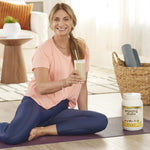 The holiday season is a time to celebrate peace, bring joy and spread goodwill, but it is also the perfect time to prepare to give yourself some much needed attention in the New Year — it is the best gift you could give to everyone').
Now is the time to start taking care of YOU! The joy of optimal health is within your reach. You can create space and build for the excitement we all feel when we take control of our own destiny by enriching our lives with better choices and identifying the decisions we make that bring us prolonged joy. Start manifesting your visions and goals for what you want to feel like in 2023, right now —don't wait. When the New Year arrives you'll have done some preparations in advance readying your mind, body and soul to receive all all the positive changes that lie ahead. When we take control of our own well-being we take the opportunity to connect with ourselves, and to find a community that supports our getting and staying healthy. A New Year brings the opportunity for new beginnings. Before we start to feel unhealthy and unhinged or even worse, get sick this season, let's get a jump start to prepare for your wellness journey and stack the odds in your favor today, by setting some goals, and making one positive change, or step toward them.  Don't wait for something bad to happen and you are stuck managing real health issues instead, manage your choices. And, drown out the noise and the plethora of propaganda claiming to be the next best wellness practices, products or routine!  
Create a space to encourage new, healthy habits that will in-turn, morph into long-term lifestyle choices. Whether it's moving your body more, finding a new fitness routine, taking a dance class at your community center, or a nutrition focus, like planning your own organic veggie garden, for an early Spring project or trying new methods to upgrade your health for better sleep patterns —just set those goals!  And then, get after 'em, one day at a time, and you'll find your own unique wellness path! Get ready and start the journey now. The new YOU! kits and bundles were created for a stock of delicious ways we can support you on a clean-eating journey that is wholesome, satisfying and delicious. Our new YOU collection highlights delicious and nutritious ways to kickstart the journey of good-health and well-being and to hack cravings with the support of clean, organic, plant-based proteins, superfoods, vitamins, minerals, pre- & probiotics, greens, grasses, fruits, and vegetables.
Try our  Kickstarter Bundle, it includes: The ACV Cleanse,  gut-benefits of apple cider vinegar in one delicious, mouthwatering shot. The Amazing Shake, all-in-one superfood smoothie, makes any meal nutritious and delicious. And, our Fruit and Veggie Chews, ward-off sugar cravings with a blend of 12 organic fruits & vegetables, fiber and gut healthy probiotics in each soft, mouthwatering chew. Get moving with our Dynamic Duo—reset and revitalize your gut health with our delicious Apple Cider Vinegar Cleanse to boost your gut health in each mouth watering shot. Plus, our Apple Cider Vinegar Gummies with B vitamins for gut health and a delicious boost of energy on the go! Any good health plan includes fiber! Our Fiber Gummies are derived from beets with no added sugar, just fiber to help you meet your RDA easily and affordably. 
Head over to the new YOU Collection to prepare for a new YOU in the New Year!  Come 2023! We're ready for ya!
♥️ Heather