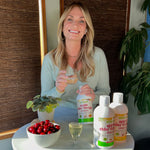 Hello! Have you heard the great news?  
The ACV Challenge is trending on social media! With over 90k posts on Tik Tok, thousands of posts on Instagram and Facebook and over 100k pins on Pinterest, so far!
Clearly, there is a lot to say about ACV and the Beyond Fresh ACV Challenge but the greatest thing about all these posts and pins is that they all tout the same benefits of Apple Cider Vinegar—less bloat, less belly ache, more energy, clearer skin, lower blood sugar, regular bowel movement, silkier hair, weight loss, increased immune support and on!! This article from CNET News is in line with our general beliefs and just another reminder that apple cider vinegar is trending, and there is a good reason why… Because it works! We believe our Apple Cider Vinegar is second to none and we challenge you to find a better tasting ACV, with no mixing, no mess and no bad taste, we have made it so easy. Learn all about the benefits of ACV and be sure to check out our energizing ACV gummies too, as they're perfect for on the go!
Take a video of your ACV taste test with Beyond Fresh ACV Cleanse, share your video to Instagram or Facebook, tag @beyondfresh_ and include the #acvchallenge.  If you don't have our delicious ACV yet,

 

click here

 

and add any flavor ACV Cleanse to your cart.
While you are shopping be sure to add our ACV GUMMIES (60 count) and use the code ACV50 at checkout to receive 50% off the gummies.

Ten lucky winners will participate in a Zoom wellness coaching session with me HT. I will motivate, inspire and help you set the stage for success. Bring your goals, insecurities and your dreams and capture the tools you need for the right direction.  In addition participants will receive a six month supply of Beyond Fresh ACV. Do it for your health, do it for YOU! 

#acvchalllenge
Beyond all that, what I want you to notice about these posts and pins is the people trying to choke down their shots of ACV, (just look at those faces) or, they are mixing it with other ingredients in an attempt to mask the pungency. And so, here is the best news of all… You can get all the benefits of ACV, without any of the gagging or messy mixing, and much more, in one delicious, nutritious, mouthwatering shot of our ACV Cleanse!  
As a health coach Heather knows how important gut health is, and as an inventor, she took matters into her own hands, creating an easy, delicious way to get in a daily dose of ACV you can look forward to!
At Beyond Fresh we broke down the barriers.  Our delicious alternative to traditional apple cider vinegar boasts our own proprietary blend of organic apple cider vinegar, fiber, aloe vera, coconut water, pineapple, and papaya to boost the health benefits of our Beyond Fresh ACV Cleanse. Reset and revitalize your gut health. Your gut microbiome is home base for good bacteria in the digestive tract breaking down our food into nutrients your body can use and eliminating things it won't. Our gut also houses the bulk of our immune defense. Balance in the gut plays a positive role in everything from our emotions to our immunity, and our overall well-being.
Enjoy these benefits and beyond with our Beyond Fresh ACV Cleanse!
Stimulate your taste buds!! ACV is a living food

Fast Acting - Attack & address problems vs. masking them 

An ancient remedy, endorsed by science

Anti-Microbial/Anti-Fungal Properties

Provides Metabolic & Microbiome Support

Proper distilling and fermentation of ACV aids proper digestion
3 grams of Fiber for Heart Health, Cholesterol and Weight Management  
Boost Energy

Reduce Bloating 

Reduce Heartburn  

Aid Nutrient Absorption and Aid in Elimination
Papaya and Pineapple
Rich in Antioxidants

Supplement Immune Health 

Vitamin C 

Reduce cravings and induce satiety

 Support healthy skin, hair, and nails.
 Aloe vera and Coconut water 
Replenishes Electrolytes

Supports Hydration

Contains important Key Minerals: Potassium, Calcium & Magnesium

Reduce Leg Cramps 
♥️ Heather