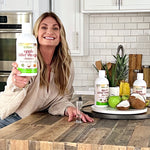 Jumpin' into Fall is my favorite time to reset, regroup and reconnect with myself as I reflect and prepare for the new season ahead and connect with my new flow. This can be done a number of ways, by putting a day aside to clean and organize the house, or your gardens, to get them ready for the winter ahead, organize kids schedules, work and sports, but what we may not do is check in with ourselves.
The crisp air that surrounds Fall is a good time to get outdoors and connect with nature for inner introspection and reflection. I try to do a lot of extra good deeds this time of the year, it sets my cheer up and in the right direction as I think about ways I will soon be celebrating with family and friends. And, then I take my ultimate step in resetting and I detox and cleanse my system during this time. I have done several variations of cleansing but, the one I rely on most is the Beyond Fresh ACV Cleanse and program we created. The concept of 'cleansing' is centuries old and most cultures practice seasonal cleansing as a ritual to welcome new opportunities. A two-day cleanse is something anyone can do to recharge energy levels, help clear brain fog, boost gut health and start better habits to create an overall feeling of achievement and wellbeing. I find a quick-cleanse is a good way to check in with myself, test my will, and jump-start my motivation for what's ahead. Taking time to shake-off those things that are just holding you down, or maybe shedding some bad habits, getting ahead of seasonal depression or the seasonal flu…I like to get truly prepared for winter. 
Whatever the season, we all need to take time to reassess and regenerate. Resetting your system and your habits are key components to creating positive energy flow, happiness and joy throughout the year. If you don't take a moment to reset you will eventually lose your drive to thrive. If you would like to join me, reset, detoxify, regenerate, and rejuvenate to continue to aim for my best…
Here are some tips:
Dedicate two days before you start the cleanse to buying and preparing your favorite vegetables and fluids; purified water, mineral water, lemon water, cucumber water, broth, tea.
Clean out the fridge and cabinets to get rid of any junk food or processed temptations, (look for labels with hidden sugar or killers like high fructose corn syrup).
Meditate, journal, just take time in your own way to set an intentional mindset for your cleanse and the days following.
Go to bed early, make time for a bath before bed or think about a morning ritual, (like a few minutes of stretching or a cool glass of water upon rising).
After day two of your cleanse you have created a new sense of well-being. Reset your routine with the introduction of clean, healthy, energizing, eating. Seek out healthy recipes and food options that support your routine, focus on probiotic, unsweetened foods that are vitamin and mineral dense, healthy fats, foods that are high in fiber, fruits and veggies, clean proteins, nuts and healthy soups. 
Here is a guide:
Day 1
Ease back into full meals with soups made from veggies, squash, pumpkins, beets, or beans.
Substitute plant protein for animal protein with beans, legumes and tofu.
Eat fruit.
Drink plenty of water and clear liquids like herbal teas throughout the day.
Stay away from too much caffeine.
Day 2
Keep eating more fruits and vegetables and incorporate whole grains like oats, brown rice or quinoa.
Add more healthy fats and fiber rich foods to help keep you satisfied longer. Like lentils, sweet potatoes, avocados, artichokes, almonds, and sunflower seeds, to name a few, all are tasty sources of vitamin and mineral rich fats and fiber.
Drink lots of water and/or herbal teas throughout the day.
Day 3
Incorporate small amounts of lean animal protein if desired, wild caught fish, free-range chicken and eggs. (red meat and mercury rich fish like tuna should be eaten just 1x a week)
Introduce more of your favorite fruits and vegetables.
Drink lots of water and/or herbal teas throughout the day. 
Whether you are starting with a cleanse or just starting to eat better, be mindful of how you're feeling each day, check in with yourself to see how your energy levels are, how your gut is feeling, how are you sleeping, what is your mindset?  All of these indicators will help fuel your confidence and this new way of feeding your body! You will have a better understanding of what clean foods work for you and how good nutrition makes you feel.
So, Fall-in!
♥️ Heather