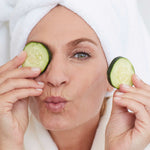 Spring is on the way!
Let's freshen up with Clean Beauty and Fresh Wellness Practices! This spring simplifying things is always a good way to lighten your load. From beauty routines, to clean eating practices, boosting our wellness can be effortless with the right essentials. Check out all my favorite clean skincare essentials from Dubois Beauty on heatherthomson.com.
Clean beauty in the skincare and makeup world is synonymous with non-toxic beauty. It is a term used to describe cosmetics and skincare products that are free from harmful chemicals. This includes ingredients like parabens, phthalates, sulfates, and synthetic fragrances. Why should you stay away from these ingredients? Well... fragrances are known to aggravate asthma, allergies and can be a hormone disruptor. Scientific studies suggest that parabens can disrupt hormones, create skin eruptions and cause skin irritations.  Sulfates known as SLS and SLES, end up removing too much of the good, stripping the skin's protective barrier and leaving us susceptible. The good news! We now understand the importance of self advocacy. As consumers our opinion matters a whole hell of a lot! Freshening up for Spring can mean looking forward to fresh grown ingredients, and staying away from additives and fillers.
Spring toward clean living!
Clean beauty and glowing skin comes from feeding your body the essential vitamins, minerals and nutrients it needs to help build and support your joints, bones, ligaments, skin, hair and nails. As the body ages into its 30's, 40's and 50's the production of powerful proteins like collagen and elastin starts to decline and eventually almost halts. We are also fighting environmental stressors and free radicals. And, that's why it is so important, now and as you age, to fuel your body with the superfoods that can support and aid in production, rebuilding and recovery. And guess what, these clean body ingredients come from plants!
Check out this amazing list of mother nature's best clean beauty ingredients. 
Lycopene, an antioxidant that helps reduce environmental stressors on the skin - found in tomatoes.
Green tea extract- An antioxidant that defends against free radical damage - found in Green Tea products.
Grape seed extract- An antioxidant that helps to support the look of skin firmness - found in Grape Seed Oil.
Organic Amla extract - Helps reduce the look of visible skin photoaging from sun damage and supports collagen production - found in the Amla fruit.
Biotin - Important for energy production and helps the formation of fatty acids that nourish the skin - found in legumes.
This Spring Beauty Tonic from Beyond Fresh helps me reduce the effects of free radical damage and fill my body with mother nature's body loving ingredients in one delicious, refreshing drink! Simply mix 1 ounce of our ACV Cleanse (any flavor), 1 scoop of Beauty Berries, and 8 ounces of water, shake, and serve over ice. It will get your gut singin' and your skin glowin'! It is a great way to support your microbiome, immune system and boost your mood in addition to supplying your joints, muscles, skin and hair vital nutrients. And it is DELICIOUS!
An effective clean skincare routine helps you attain and maintain healthy skin, all year long.
Daily = Cleanse, Drink Water, Moisturize, SPF
Weekly = Exfoliate, Wash Pillow Case, Face Mask, Eat the Rainbow
Monthly = Facial, Skin Self-check, Chemical Peel, Wash Brushes
And, this Spring my favorite clean beauty hack is..... Coconut Oil yes simple, clean, easy, affordable Coconut Oil!
you can use it as a moisturizer for the body, it's rich in fatty acids and has both antibacterial and anti-inflammatory properties
it is a great makeup remover because it breaks down lipid-soluble impurities like makeup, as well as sebum, which is responsible for oily skin
can be a great thing to either condition with or leave in to help repair the damage that occurs to your hair shafts from coloring, heat, and the sun
Clean beauty, clean eating, living simply, finding what makes you happy and your health sing are great daily and long term wellness goals! Let's make them a reality and start your clean journey with me today!
♥️ Heather