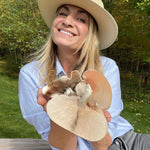 Let's think about Brian Health
June is National Brain Health and Alzheimer's awareness month and taking care of our most important asset, our brain and feeding our bodies with a predominately whole food, plant based diet, will help us thrive now and well into the future and, it is never too late!
Mushrooms are a much-loved ingredient in cuisines around the world. They are packed with vitamins, minerals and are especially rich in antioxidants which protect cell health and boost immune function. In fact, researchers are challenging that mushrooms can assist in mental disorders, protect against cognitive decline and more. Mushrooms are fascinating. Although, only some are edible, and grocery stores sell them in their vegetable aisles, they aren't vegetables. They are fungi! A kingdom all of its own with networks underlying, and communication systems that are facilitators crucial to human life, and all existence.
Edible mushrooms, both cultivated and wild species, contain a high amount of dietary fiber, antioxidants and protein, as well as being extremely nutrient dense, very low in calories and naturally contain vitamin D. They are a good source of B vitamins, and the latest research has found that people who integrate the following mushrooms into their diets, even if they only consume them in small portions, may have a lower risk of mild cognitive impairment (MCI), which often precedes Alzheimer's disease.
golden mushrooms

oyster mushrooms

shiitake mushrooms

white button mushrooms

dried mushrooms

reishi mushrooms
The study(*) showed eating more than two portions of these cooked mushrooms per week could lead to a 50 percent lower risk of MCI. But, I know that introducing mushrooms into your diet, for some, is a new concept so, stay tuned for my Instagram LIVE with friend, Chef Jeremy Rock Smith. Mix a dash of Julia, and pinch of Bourdain, and a drop of Deepak-and you've got the perfect recipe for Chef Jeremy Rock Smith. Internationally known as a good dude making good food, Jeremy is a classically trained chef, healthy cooking expert and best-selling cookbook author. Known for his signature style of cooking with a side of comedy, Jeremy serves as Culinary Ambassador for the Kripalu Center of Yoga & Health, Culinary Specialist at Miraval, and is on the faculty of the Center for Mind-Body Medicine in Washington, D.C. Jeremy's delightfully down-to-earth approach to whole foods cooking has brought him a dedicated following and esteemed tenures as Demonstration Chef at Canyon Ranch and Executive Chef at Kripalu.
He is the author of best-selling cookbook, The Kripalu Kitchen: Nourishing Food for Body and Soul (2019), and his humorous approach to nutritious & holistic living has earned him accolades in a range of publications including the Food Network Blog, HEALTH, Prevention, Yoga Journal and more. Jeremy is also known for his fan-favorite appearance on Food Network's Chopped, which he competed on in 2019. Recently, Jeremy was announced as the Culinary Director at Berkshire Hills Culinary Camp.
Join us LIVE on INSTA this month with some of our favorite ways to use and prepare mushrooms. If you are a seasoned mushroom lover, maybe you haven't tried some of the preparation methods he'll teach, if you are looking to understand preparation, or some fresh ways to get your shrooms in, we'll be covering selecting, prepping, cleaning, using dry vs. fresh mushrooms and more! With a quick demo on how to sweat then caramelize the shroom to get that rich Asian umami flavor. YUmm! We'll be coming at you LIVE on INSTA this month, so stay tuned!
Meanwhile, here are some ways to try some 'shrooms today!
Sautéing

Grilling and Broiling

Roast for Flavor  

Steam

Swap out for a Meat Alternative

Freshen Up Your Meals

Chop 'em up, Toss em in

Blend in your Smoothie or Soup

Drink them as Tea
Mushrooms are nature's hidden treasure for their nutritional value, taste, versatility, and satiety. Let's look to nature to help heal our bodies and our minds! For the month of June, all year and life long, mushrooms on the daily can help you and the ones you love. Let's share our love and inform each other on the magic of mushrooms all month long!
*Journal of Alzheimer's Disease
♥️ Heather