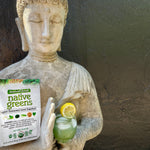 If you are feeling bloated or you are looking for an energy boost, our Detox Tonic can help you to re-set and refresh. Detoxify your system with our phytonutrient dense Native Greens, support digestion and gut health with our ACV cleanse. Probiotic rich pure and organic, this light, delicious superfood drink will rev you up with just the right amount of zing.
Ingredients:

1 cup of water
1 shot of ACV, (green apple flavor)
1 scoop of Native Greens
Instructions:
Shake or blend and pour over ice with a squeeze of lemon on top.