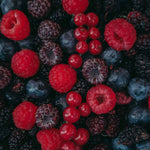 This beauty tonic is delicious and effective, it is the perfect addition to any beauty routine! They say beauty starts from the inside out and we agree! The incredibly special Beyond Fresh Beauty Berries formula boasts Mother Nature's best, whole body loving ingredients. Our berry-infused, age defying ProCollagen & ProElastin Complex uses a proprietary blend of 14 polyphenol rich berries, herbs, vitamins, and minerals, creating a delicious way to boost your overall wellbeing. Featuring 5,000mg of biotin and Vitamin C, this duo offers powerful antioxidants and plant extracts that boost age defiance from within. Collagen is found in our skin and connective tissues and elastin is a key component to our skin, stomach lining, ligaments, and tendons. As we age, production of both declines. Combined with our Beyond Fresh Apple Cider Vinegar Cherry Cleanse.
This delicious alternative to traditional apple cider vinegar boasts our own proprietary blend of apple cider vinegar, fiber, aloe vera, coconut water, pineapple, and papaya in each mouth-watering shot. Your gut microbiome is home base for the good bacteria in the digestive tract that helps break down our food and
turn nutrients into things your body can use. It also houses the bulk of our immune defense. The right balance of bacteria in the gut can play a positive role with everything from our emotions to our immunity, and our overall well-
Being.
To make you beauty tonic:
Mix 1 scoop of Beauty Berries with 1 shot of ACV cherry into 8-10 ounces of water, stir, serve over ice and enjoy, your skin, and body will thank you!